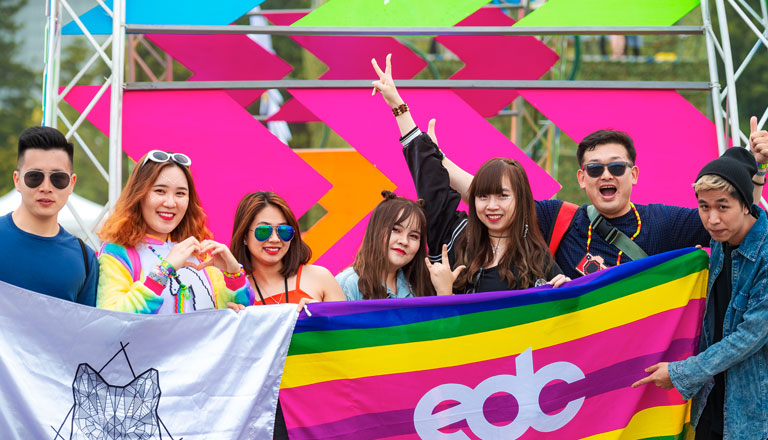 Ticket Info & FAQ
Ticket Info
Ticket purchasers shall NOT resell, transfer, or auction off tickets. A single ticket cannot be shared by multiple persons. If such acts are discovered, those concerned will be ejected from the event.
Tickets are valid only for the days/venues printed on them.
When tickets are sold out, no tickets will be sold at the door. Please purchase your tickets in advance.
Tickets will be fastened to wristbands upon entry.
Lost or broken wristbands will not be reissued, and re-entry will not be allowed.
All information submitted in the purchase of tickets will be forwarded to the event organizers.
The festival will take place despite weather conditions, with the exception of natural disasters. In the event of cancellation due to a natural disaster, tickets will not be refunded; all costs associated with this cancellation, such as travel expense to the site, will not be compensated.
Artist performance dates, stages, and time slots are subject to change. No refunds will be given for lineup changes or cancellations by artists.
Ticket FAQ
Are tickets expected to sell out?

There is always a chance that the event will sell out, in which case no more tickets will be sold. So, get your tickets now—we want to make sure you don't miss out!
How can I avoid ticket fraud?

The best way to avoid ticket fraud is to buy directly from our official ticket seller. DO NOT purchase from scalpers. If you arrive at the venue with an illegitimate ticket, you will be turned away, and no refund will be provided.
What does the ticket include?

The ticket price covers entry into the festival and gives you access to its public areas, including stages and food & beverage stalls. Your GA/VIP ticket is valid for both days of the festival. Merchandise, food and beverages are available for sale inside the venue at an additional cost.
What's the difference between the various pricing tiers?

No matter what tier you purchase, you will still get all the same access and benefits! The only difference in your experience depends on whether you purchase a GA or VIP pass. All ticket quantities are limited, and prices increase as tier allotments sell out. So, buy your tickets early and save!
I've lost my ticket! Can I ask for a reprint?

Tickets are treated the same as money. Even if you bring proof of purchase (confirmation, receipt, etc.), we will not be able to reprint tickets. Put your tickets in a safe place you'll remember till the show date!
I'm not able to go to the show anymore. Can I get a refund?

Sorry, ticket cancellations or refunds cannot be issued after purchase.
Is it possible to resell my ticket?

Purchasers may NOT resell, transfer, and/or auction off tickets. Tickets cannot be shared by multiple people. Any person found engaging in such acts will be ejected from the festival grounds.
I accidentally cut my wristband; what should I do?

Wristbands will NOT be reissued if they are damaged or lost. Please put your wristband in a safe place until the show date! Any person found entering the venue without a proper wristband will be ejected from the festival grounds.